Login to your CISA Web Solution
Login with AuthentiCard (Customer Access)
AuthentiCard is an electronic card associated with a PIN code used to authenticate your identity for easy and secure access to CISA web solutions.
When the product is purchased, the PIN is hidden under a silver scratch-strip on the PIN card.

Electronic card AuthentiCard
PIN card
Do you already own an AuthentiCard?
To login, open the Customer Access Form and fill it in with your AuthentiCard Code and your PIN.
The AuthentiCard Code is composed by 16 alphanumeric characters; it is not case sensitive and it does not require spaces and dashes.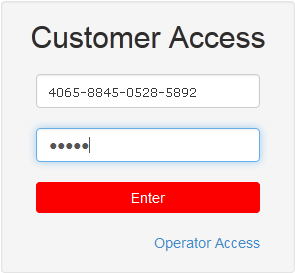 N.B.: the code 4065-8845-0528-5892 displayed here is for demo purpose, and it shall be replaced by your actual code.

CISA Web Solutions
Key Duplication with AuthentiCard: a new system for safer AP3 S / RS3 S key duplication. It protects: your keys may only be duplicated by showing your AuthentiCard and PIN code. It stores: each duplication will be stored and you'll be able to visualize it on our website. It notifies: each operation will be notified to you by SMS or e-mail. Find out more on cisa.com
CISA AERO: a simple and flexible access control solution. Electronic locks, wall readers, electronic cylinders (and even mechanical cylinders) can be combined in one system with maximum flexibility. CISA AERO is designed for all those who want a simple, flexible, tailor-made electronic lock system. Find out more on cisahotels.com
Lost or stolen AuthentiCard
If your AuthentiCard is lost or stolen, it must be blocked and a new one must be purchased.
Contact CISA for information.
Forgotten PIN
Should you forget your PIN code, the existing AuthentiCard must be replaced and a new one purchased.
Contact CISA for information.
Login with Username and Password (Operator / Solution Partner Access)
Click the Operator Access link in the homepage of CISA web solutions login, or click here to open the Operator Access form.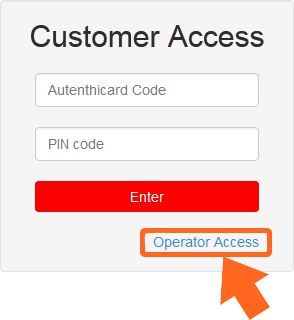 In the Operator Access form you can fill in your username and password.
Save this link among your favourites links for quicker access in the future.
Press Enter to login.